Chief O'Neill Musical Experience
Sunday, June 26
An unforgettable live Irish music adventure!
Francis O'Neill Irish Arts Week 2016 kicks off by celebrating its namesake with a unique musical experience for players and non-players alike of all ages! This exciting full day of music will start at Mrs. Murphy & Sons Irish Bistro (3905 N. Lincoln, Chicago) at 12pm for some delicious brunch and a fascinating look at how Chief O'Neill was forged from the coast of Ireland in West Cork.
CHIEF O'NEILL AND WEST CORK
HOW THE ROLLING HILLS OF WEST CORK SCULPTED THE CHARACTER AND MUSIC OF CHIEF FRANCIS O'NEILL
This engaging and informative talk, led by Cormac McCarthy, will explore the unique nature of the West Cork music tradition with particular reference to Bantry and the surrounding areas. The region's trading and nautical links with Europe (France in particular), have tangibly influenced many facets of it's culture for centuries; from fine European wine in Timoleague Abbey cellars to the distinct Spanish architecture of Kinsale.

Tunes, which have a generally homogenous interpretation across most of Ireland, are often found to have distinctly different melodies in West Cork. This musical, cultural and geographical landscape had a profound influence on Chief O'Neill as a young man, and continued to resonate through his music, his collecting, and perhaps most importantly - his urge to explore, for the rest of his life.
At 2pm, board a bus for a lively tunes-filled trip down to Mt. Olivet Cemetery where the Chief is buried and learn some fun historical facts along the way. We'll visit his mausoleum to pay our respects and have some tunes in his honor with Francis O'Neill Irish Arts Week faculty. Then it's back on the bus for some more Chicago Irish history connections and a trip back up to Mrs. Murphy & Sons for the Hooley.
The Irish Heritage Hooley, which brings together musicians of all ages and levels, begins at 5pm and goes until.... Everyone is welcome at this lively mega-session that brings together the generations.
Schedule and Pricing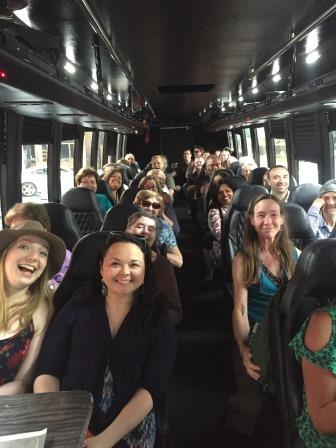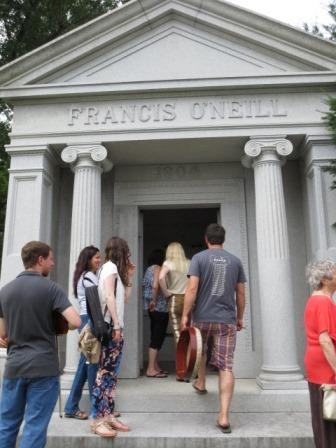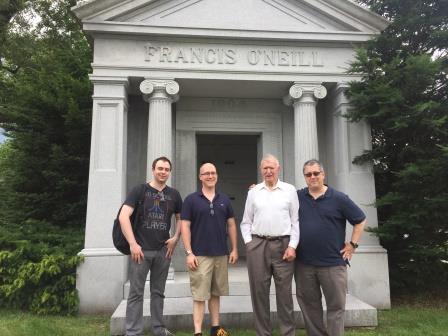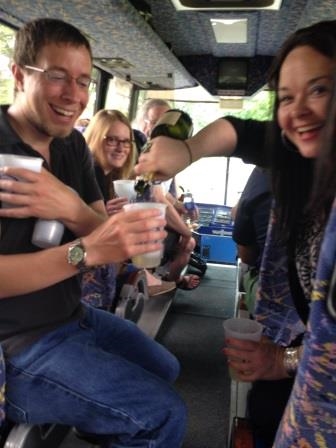 12pm: Meet at Mrs. Murphy & Sons Irish Bistro for a little history on the Chief led by Cormac McCarthy
12:45pm: Delicious Brunch
2pm: Bus departs for Mt. Olivet Cemetery (2755 W. 111th St., Chicago)
3-3:45pm: Visit Chief O'Neill Mausoleum with members of the Francis O'Neill Irish Arts Week faculty and other musicians from the community
3:45pm: Back on bus for journey back to Mrs. Murphy & Sons and more music along the way
5:00pm: Hooley at Mrs. Murphy & Sons Irish Bistro
Cost: $40 (includes buffet brunch, non-alcoholic beverages, bus tour and Hooley)
Thanks to our 2016 sponsors!
Individual Donors
Tom Cashman
Jim Sloan
Una Jackman
Thomas Hynes
Rich Delaney
Tim Huston